Frequently Asked Questions
Most Asked Questions
We receive many questions from our clients and below are the most commonly asked questions and our answers.
If you do not see the answer to your question please do not hesitate to contact us.
Are you taking precautions to prevent the spread of the coronavirus?
We understand that seniors are among those that are most at risk for contracting COVID-19. Therefore, we are implementing every precaution available to reduce the coronavirus spread and keep our clients safe. These precautions include all crew members:
Diligently wearing their face masks;
Using hand sanitizer frequently;
Undergoing daily temperature checks;
Sanitizing all equipment and supplies between jobs; and,
Receiving the vaccination early.
Can I leave my items in my dresser?
In most cases the answer is yes. As long as there is nothing breakable or heavy, the items can be left in the drawer.
Do you disassemble and set up computers?
Absolutely. We have people trained to not only disassemble computers but who label all connections for worry-free reassemble at your new home. 
How do you pack my clothes in my closet?
We bring wardrobe boxes on the day of your move in which your clothes hang in to help prevent your garments from being wrinkled during transportation.
Do you take down existing televisions and wall mounts?
Yes, typically we do this on moving day when we have the manpower at your home. We always use a minimum of two guys when taking your television off the wall as to prevent damage. We also bring the right tools to take down the wall mount if desired.
What do I do with the contents in my refrigerator?
Let us take care of that for you. As the movers are loading the last few items onto the truck, we pack all contents from the refrigerator. These will be the last items loaded onto the truck, therefore being the first item off. In most cases, it takes less time out of refrigeration than going to the market.
Can you dispose of unwanted items?
Yes. This is a common service that we provide. Sometimes it is just a couple of items which can be handled on move day and sometimes it is a truck load of items that we can either do on move day or at a future or desired date that meets your needs.
Yes. We line every box with plastic that has a liquid substance to insure that in the event the liquid spills that the mess will be isolated to just the one box.
Do you ship out of state?
Yes. We evaluate what the items are, and we share the various solutions including costs to find out what is right for you.
Can you help me dispose of unwanted wood and other items?
No problem we can schedule a fair priced trash out for as little or as much as needed.
What do I do with my wine and alcohol?
This is no problem. We will carefully pack, transport, and unpack it all for you. 
What do I do with my cleaning supplies?
We will pack it all up and transport it for you.
I have furniture that won't fit can you help me with long term storage?
After items for other family and friends have been reviewed many items can be donated. We generally discourage long term storage. After months or years of storage the cost usually is higher than the value of the items.  If our clients still need, or want, long term storage we will gladly pack, wrap and transport to storage.
As I prepare for pack day, what will my responsibilities be on that day?
Here is a reminder of pack day. Set aside any hygiene items that you might need for the next few days.  Include any medications.  Lay out any clothing for the next three days. Set out a minimal of kitchen items.  All of these measures will allow us to quickly pack your items.  This saves time and money. ALL supplies for packing will be brought by our team. This includes boxes, tape, paper etc. Just a reminder, your bed, television, phones etc. will be available for you and not disconnected or packed until the following day, move day.
What will happen to my house plants?
Great question.  Please allow them to dry out as that helps the root system.  We will pack and move them.
I have furniture upstairs that I would like in the garage, can you help?
Absolutely, our strong, trained movers can help with moving furniture on move day.
After packing, can I go elsewhere and turn the job over to you?
Yes. Many clients want a break from the chaos of moving. They turn the keys over to us and show up to the new home in the afternoon, rested and happy.
When should I turn off the utilities in my old home?
Most find it is helpful to leave all utilities on until the new owner is getting ready to move in. This ensures that your watering and alarms continue.  
I have old paint and toxic trash, can you help?
Yes. We will efficiently, and legally dispose it at a reasonable price.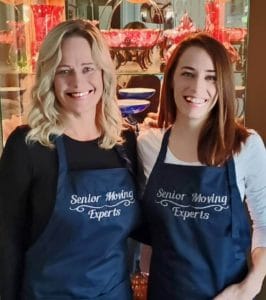 Check Our Services!
Senior Moving Experts provides comprehensive services to seniors relocating to new living environments. Our team of experts offers guidance, support, and peace of mind throughout the entire moving process, including packing, loading, transportation, unloading, unpacking, and setting up your new home. We understand the emotional, physical, and logistical complexities involved in moving seniors and strive to make the process as smooth and stress-free as possible. Choose Senior Moving Experts for top-notch, unparalleled services that go above and beyond to make moving worry-free.